Boaz Kashi
Four-generations of exceptional family craftsmanship legacy since 1889, serves as inspiration for Boaz Kashi to design and produce unique, fascinating jewelry. Kashi's design combines the highest quality of enduring materials, 18k-24k gold, genuine gemstones, and ethically sourced diamonds.
The limited-edition collections, handcrafted traditionally, create unique shapes and designs that combine beauty and power at the same time.
Boaz Kashi has participated in various international jewelry shows earning world recognition and acclaim.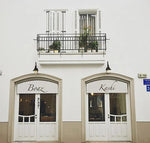 The studio
Located in one of Tel-Aviv's oldest districts, the beautiful Neve Tzedek neighborhood, Kashi's studio attracts worldwide clientele. The Shabazi St. in Neve Tzedek is an attraction to tourists and locals, young and elder, women and men, strolling in the small narrow streets shopping in the designer collection boutiques, pieces of art, antiques, and vintage jewelry.